Okay, do me a favor. Open your mouth and say "ah…" Go look in the mirror.
You have taste buds.
You know, those sensory organs on your tongue that allow you to experience tastes that are sweet, salty, sour, and bitter.
See the bumps on your tongue? Those are called papillae, and most of them contain taste buds. Those buds have very sensitive microscopic hairs that send messages to the brain about how something tastes. Most of us have about 10,000 taste buds and they're replaced every 2 weeks or so.
But the nose is part of our tasting too. When we chew, the food releases chemicals that immediately travel up into our noses. The chemicals trigger the olfactory receptors inside the nose and work together with our taste buds to create the true flavor of that amazing lasagna, slice of pecan pie, or a spicy, green Thai curry.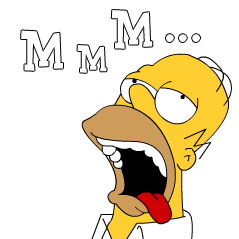 So now that we are more aware of our taste buds, let me ask you: have you ever taken a taste test? You know what I mean?
Say you're interested in trying a new flavor of ice cream, or a beverage you've never had before. If you're lucky enough, someone my offer you a sample to try. That way, you can decide for yourself if you like it or if you don't. You don't commit to buying something you haven't tried. You ever seen a baby try something for the first time? The kid approaches the food, expecting the same taste as always, and then is surprised. The baby's palate explodes. The kid makes hilarious faces and you're just not sure whether it's disgust or sheer enjoyment.
But there are other types of taste tests, right? For example, if you cook a lot, you are doing this all the time. You taste a bit of the sauce you're cooking throughout the process…to see how it tastes. Does it need salt? More tomatoes? Every time I make a curry or a salsa I'm tasting it probably at least ten times to see if it's spicy enough, or savory enough. I even taste test the batter for cookies or cakes before it's cooked.
A taste test, though subjective to our palates, is a pretty scientific way to test something. We either like it or we don't. Or sometimes, the first taste is weird, but the second and third tastes are much better.
So it is with this mind that we can more adequately approach another Jesus metaphor/I AM statement, namely: "I am the bread of life…those who eat of my flesh will live." First, let me say that according to John's Gospel, Jesus of Nazareth said this in front of a decent crowd of people, and most of these people were offended by it.
Why? It's simple—they took it literally, kind of like Drax the Destroyer from Guardians of the Galaxy, they weren't capable of understanding parables, double meanings, or metaphors.
So when Jesus said we was bread and that people could eat his flesh and live, the hearers were upset by this statement. What, were they cannibals? Did Jesus' flesh have some kind of magic power? But there's even more to the crowd's offense at what Jesus said, and this is where I'd like to actually go with this:
They were conditioned to believe that the natural world, i.e. "the flesh" was corrupt and impure.
God or the Divine was apart from this natural world and therefore holy. This was the dichotomy in the Greco-Roman world. I would argue that in the West not much has changed. Most Westerners consider God to be far away from the natural world/flesh and even removed from it. We as humans are flesh, fallible, corrupt, blemished. God is not.
So that's why was Jesus said and did was really offensive. But Jesus wasn't saying anything inconsistent with what God [Yahweh in this case] was or did. Yahweh, in the Hebrew Psalms, was very present in the very human lives of people and of animals and all of creation. Yahweh heard the cries of living creatures. Yahweh surrounded those who were vulnerable or who were crushed in their spirit, stayed near to them and helped them.
Jesus, in John's Gospel, continually said I AM…to reflect the importance of "living or abiding" in God and a mutual-indwelling of God in Jesus, Jesus, in people, God in people. In a mystical sense, tasting is seeing that Yahweh is good; tasting Jesus is akin to an interior perception of self and the Divine within the self.
In other words, this Divine/Yahweh/God/I AM/Logos is not far away or separated from the flesh of humanity and creation—it all lives together. Think of it like a dance. The Divine and you are always dance partners, but the dance style can change, according to where you are in life, and you don't always have to stay on the same part of the dance floor.
It's a mutual, symbiotic existence and the more that you and I taste life in this way and internally perceive that we are indeed loved and well-made to give and receive love, the more we become aware of the presence within us and the more we are able to discern between the other foods that the world or others try to feed us that are in fact very unhealthy. So friends, what do you think? What flavor does this talk have for you? What dance style are you currently engaged in?