I got behind on my blog posts. Sorry 'bout that! But I'm back…hope you enjoy and thanks for reading!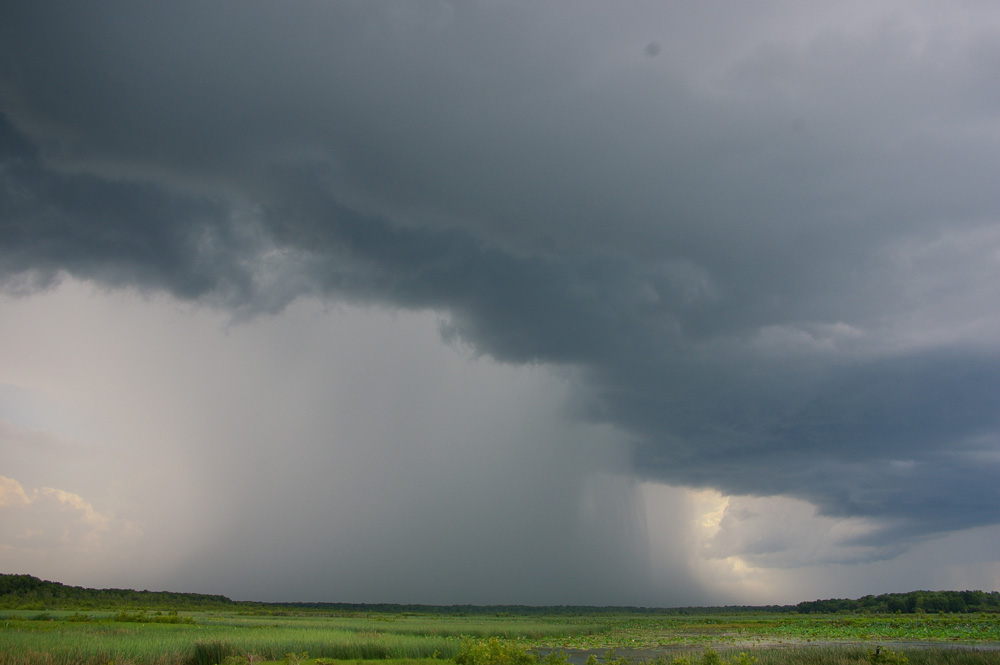 Do you like rainstorms? Do you appreciate the pattering sounds of raindrops impacting the roof or the ground or the windows or the top of your umbrella? Do you marvel at the dark clouds moving in, changing the landscape of sky, the rapid temperature change, and the possibility of thunder? I don't know about you, but a good summer rainstorm can be an amazing thing.
Of course, there's another way to look at it, right? Imagine you're on your way somewhere urgently for work or school or whatever—and the rain clouds move in and you're caught in it. No umbrella. No poncho. No raincoat. You're bound to get soaked. You can't avoid the puddles. You're inundated. You're stuck in the middle of a storm.
That can be scary, or ominous, or at least annoying. Your plans have to change [and your clothes have to be changed]. Your shoes slosh around. You may have to take shelter for a bit and wait it out. It can be difficult if you're caught in a storm.
Weather is a universal thread throughout the great literature of the world. Consider the metaphor of storms, which typically represent a great challenge or an obstacle to overcome, and often are metaphors that are both physical and psychological in nature.
Indeed, storms present themselves in the great stories and teachings as necessary for growth, essential for learning, and opportunities to discover inner strength and/or wisdom.
Such is the case in Biblical literature and the stories about Jesus of Nazareth in the NT Gospels. This particular story in Mark has as its principle setting a stormy body of water—one in which Jesus and his followers are navigating in a boat. The boat full of Jesus-followers is on its way to the other side of the lake, where non-Jewish people [called Gentiles] lived. It was Jesus who challenged his fellow Jewish followers to stop discriminating against non-Jews and to share love and compassion with those who they had always called "other."
So there they were, on a boat bound for the "other" side.
Then, the winds picked up. So much so, that the boat was rocking. A storm was coming, and the rain threatened to fill the boat up and sink the whole enterprise. The people on the boat were freaking out.
And then there was Jesus.
He was curled up like a baby, sleeping on a pillow. Wind? Rain? Storms? No problem. Nap time.
Seeing this, the followers were upset and blurted out to Jesus: "Teacher, do you not care that we are perishing?" Really? Did they think that Jesus of all people didn't care? Well, Jesus must've cared, because he woke up, got up, and rebuked the wind and talked to the water. Peace. Be silent. And sure enough, the wind ceased and then a great calm began.
Now it's important to note that at the end of the story, the followers on the boat were not in awe of Jesus. They were scared—of the storm with its wind and rain, and scared of Jesus' calmness in the storm. In fact, the Greek word/phrase to describe them was less awe and more crippling fear mixed with inaction.
That leads us to now. Not gonna lie—there are a lot of "storms" out there right now that seem to be invading our boats, stirring the water, tossing us about, creating a climate of fear all around us. Sadly, we in the United States live in a country where the government uses social media to create storms of fear. Donald Trump [yes, I rarely say his name, but in this case it's necessary] is a distraction artist—using whatever he can to distract our attention from social issues we can actually change, so as to keep his false and faulty sense of control. Those around him stay silent when it comes to human rights issues like the treatment of immigrants at our borders and in detention camps and centers; the separation of families in the name of homeland security and so-called safety; the unprecedented, unchecked presence of ICE and the angry, fearful, ignorant, armed U.S. citizens who direct their anger and fear at black and brown people or anyone who looks like an "other." All of this is a created storm of distraction and fear. And it's effective if we let it keep us in our boats, huddled in fear and confusion or worse yet, if we let it keep us from venturing over to the other side of the lake at all.
It's true, friends, that storms exist. They exist outside in the physical world and they exist in our society. But the storms also exist inside us. That which is external is what it is. You and I cannot control other people. Neither can governments or leaders, regardless of what they assume. What happens externally is often beyond our control. The storms come with wind and rain and they rock our boats. And then we're left with a decision: how will we react inside?
Will we let those storms eat us up, engulf our minds and bodies so much that we forget our humanity and stop seeing the humanity in others? Will we take on these external storms inside ourselves and start to claim them as our own storms? This will cripple us; we will cower in fear; we won't act. We'll either stay in the boat out of fear or we'll never get into the boat at all.
But there is another path, and it's one that Jesus of Nazareth invited others to take. It is the path of peace, the path of calm within the storm. It is recognizing the storms and not ignoring them, but not allowing them to affect us negatively.
This path is seeing the storms as opportunity for growth, for aha moments, for strength, and for effective action.
Yes, it matters how we see the storms. Will you see the rain clouds, will you feel the wind and drops, will you hear the thunder, and will you see it as opportunity? Will you see it as a chance to jump into the boat and go to the other side? To embrace an "other" as a "friend" and to combat the distractions and fear mongering with focused compassion and courageous action?
Bring on the storms. We're in the boat together. Let's keep going to the other side.